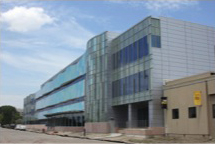 UW Milwaukee School of Freshwater Sciences
A Study of Efficiencies
W-Milwaukee (UWM) School of Freshwater Sciences is open to graduate students committed to the study of fresh water. With the building in need of a facelift and expansion, UWM turned to Henneman Engineering, Mechanical Inc., and Masters Building Solutions for an energy efficient renovation.
The School of Freshwater Sciences is home to a wide variety of important research projects and laboratories. The dynamic nature of the facility and its inhabitants requires an equally flexible and dependable mechanical system. With this in mind, the marine life habitats are temperature controlled by twelve Multistack Dedicated Heat Recovery Chiller modules in three banks of four. One bank of modules serves as a redundant machine while the other two simultaneously provide hot and cold water precisely matched to the load.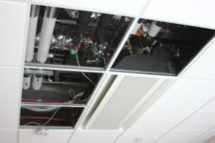 With efficiency being one of the key tenets of the facility's design, energy recovery was used in as many mechanical system components as possible. The potentially caustic nature of laboratory exhaust creates a unique challenge in recovering heat from the airstream. For this task, Haakon custom air handlers were utilized with stainless steel, wash-down liners and specially coated run-around loop coils. Additional Haakon custom air handling units with energy recovery wheels pre-condition and dehumidify the make-up air.

The laboratory spaces are conditioned with quiet, efficient Trox chilled (Shown to left) beams while the critical laboratory space pressure is precisely maintained by Phoenix Controls venturi valves. Both of these leaders in the lab conditioning are well known for their ease of installation and minimal maintenance requirements. To round out the mechanical system, Daikin Vision modular air handlers (Shown to right) and Enviro-tec VAV boxes provide the heating and cooling to non-critical classrooms and office space.