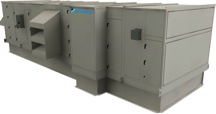 SPX Transformer Solutions
Factory Expansion & Renovation
Transformer Solutions, Inc. one of the largest manufacturers of power transformers in the U.S., is headquartered in Waukesha, WI. The company has been established here in various forms since 1970 and recently expanded their manufacturing and training facility to 449,000 square feet. SPX looked to JF Ahern and Masters Building Solutions to design an HVAC renovation to meet the facilities evolving needs.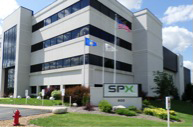 The Waukesha facility has many unique design requirements due to the demands of building and testing of transformers. For instance, the 'Desert Room' serves a drying process in transformer production. This room is supplied by a custom CDI desiccant unit, fabricated to keep the air at a very low relative humidity to ensure that the transformers will not be affected by moisture.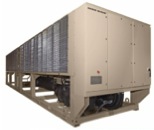 The majority of the manufacturing facility is fed by Daikin Skyline rooftop units (shown above right), granting competitive cost comparisons and high efficiencies. Skyline units are extremely flexible with their modular platform and Variable Dimensioning options.
Two 300 ton Daikin Premium Efficiency Pathfinder chillers (see right) are used to cool the building. These Daikin units earned SPX almost $109,000 in rebates from Focus on Energy, a Wisconsin utilities program that works with businesses to invest in energy efficient projects. Masters assisted in the rebate process by providing PACE energy analysis runs for the chiller system.

Additionally, two 70 ton Multistack Dedicated Heat Recovery Chillers (DHRC) (see left) produce both hot water and chilled water concurrently. These modular units can provide water temperatures greater than 150ºF while making chilled water!