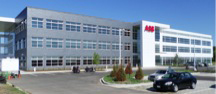 ABB
New Office Space and a Factory Remodel
ABB is a worldwide company based in Zurich, Switzerland which produces industrial motors and drives among other technologies. In the Milwaukee area, ABB has both production facilities and office space for all five of the company's business units. The factory opened in 1982 and was recently in need of a remodel; JF Ahern and Masters Building Solutions worked together to provide a competitive design/build package.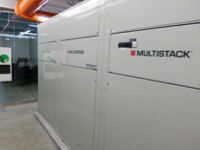 An energy efficient office space was added and is served by two Daikin RPS units. These VAV Rooftop units come with factory mounted ABB variable frequency drives, a must have for the project.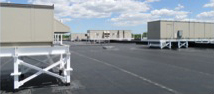 The factory remodel required a more multifaceted approach. Three Multistack dual quad modules (see left) yielding 145 tons, are used for making ice, hot water heat recovery and also comfort cooling.
These modules are perfect for remodels due to the ease of navigating existing access routes, and are also extremely efficient.
Daikin Skyline rooftop units (see right) remain a very cost competitive product while retaining their flexibility and effectiveness. In this case, the design team again made use of ABB drives with factory installation. Also, the flexibility of the Skyline units allowed them to include space for Meefog humidifiers within these air handling units.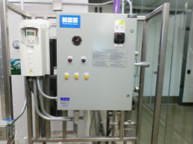 Meefog humidifiers (controls shown to right), while used primarily in the Skyline units, are also found in ductwork for the Office spaces. Meefog systems use high-pressure water fogging technology that humidifies and cools the air without need of steam, producing a highly efficient and reliable system.